Promoting human rights and environmental balance before audiences the world over
Eco-Imperialism author Paul Driessen, CORE, CFACT and their colleagues frequently give lectures, organize and participate in special events and programs on college campuses, speak to business and professional organizations, testify before Congress, and appear on radio and television programs.
Their message: Conserve resources and protect the environment. But put people first. Help the world's poor improve their health and nutrition, and take their rightful places among the Earth's prosperous people. Support policies that promote their basic human rights to sustained economic development, biotechnology, pesticides, safe water, sanitation, and abundant, reliable, affordable energy.
Martin Luther King Day Teach-In on Eco-Imperialism
Congress of Racial Equality, New York City
January 20, 2004
Roger Bate, Paul Driessen, Michael Fumento, Niger Innis, Fiona Kobusingye, Patrick Moore, Deroy Murdock, CS Prakash, and others discussed the impacts of eco-imperialist policies on developing nations.
"There is no more basic human right than to live. We have to protect the environment. But we must stop trying to protect it from distant or imaginary threats. Most of all we must stop trying to protect the planet on the backs, and the graves, of the world's most powerless and destitute people." Niger Innis, CORE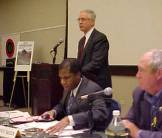 Paul Driessen, Deroy Murdock and Greenpeace co-founder Patrick Moore
Congressional hearing on science and public policy
House Subcommittee on Energy and Natural Resources, Washington, DC
February 4, 2004
"Economic rights are human rights. The Congress of Racial Equality and Economic Human Rights Project are dedicated to correcting prevalent environmental myths and misguided policies that help perpetuate poverty, misery, disease and early death in developing countries." Paul Driessen (from his testimony)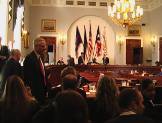 Driessen takes his place at the subcommittee witness table
University of Minnesota, Minneapolis
March 23, 2004
Sponsored by the Committee For A Constructive Tomorrow (CFACT)
"But just as there is a circle of life, there is also a circle of death. It connects policies that perpetuate poverty, disease, malnutrition and early death – and will continue to do so as long as ideological groups are allowed to dictate choices for the developing world." Paul Driessen (from his PowerPoint presentation)
University of Wisconsin, Madison
March 24, 2004
Sponsored by CFACT
"Worldwide, over a billion people still don't have access to safe drinking water. Over 2 billion still don't have access to electricity or sanitation. Life for these people would be infinitely better if they simply had abundant, reliable, affordable electricity." Paul Driessen (his 2-hour UW-M talk and discussion were taped by C-SPAN and subsequently broadcast on its Book-TV program)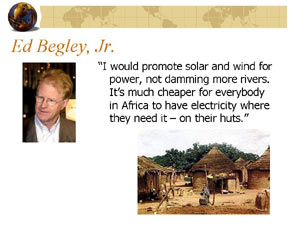 National Animal Interest Alliance
NAIA annual conference, Washington, DC
March 29, 2004
"A single 555-megawatt gas-fired power plant generates more electricity in a year than do all 13,000 wind turbines in California. The gas-fired plant requires a mere 15 acres. The 300-foot-tall windmills impact over a hundred thousand acres, destroy scenic vistas, and kill thousands of birds and bats every year." Paul Driessen (from his PowerPoint presentation)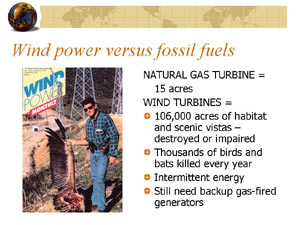 University of North Carolina, Chapel Hill
March 31, 2004
Sponsored by CFACT
"Four million infants, children and mothers die every year from asthma, pneumonia and tuberculosis – caused by breathing the smoke, dust, bacteria and pollutants that are a constant fixture in their homes and villages." Paul Driessen (from his PowerPoint presentation)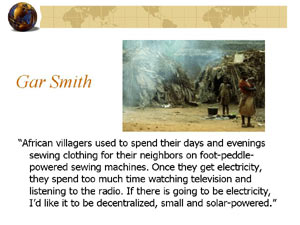 University of Arizona, Tucson
April 8, 2004
Sponsored by the UA law school
Paul Driessen spoke about the environment and Eco-Imperialism.
"Malaria infects 300,000,000 people a year – more people than live in the entire United States. It kills 2,000,000 every year – more than the population of Houston, Texas. The vast majority are in sub-Saharan Africa, and nearly 90 percent of them are children and pregnant women." Paul Driessen (from his PowerPoint presentation)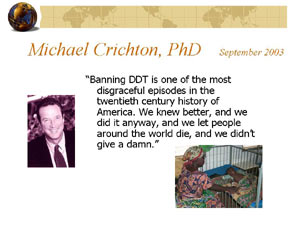 Earth Day Teach-In on Eco-Imperialism
April 20, 2004
National Press Club, Washington, DC
Sallie Baliunas, Roger Bate, Paul Driessen, Niger Innis, Norris McDonald, John Meredith, CS Prakash and others discussed eco-imperialism's impacts on the poor in the US and overseas.
"Ineffective actions taken to prevent climate change will significantly increase energy prices for poor Americans and Europeans, making it even more difficult for many to afford heating and air conditioning. Unfounded fears about global warming are also used to justify policies that prevent poor Africans, Indians, Asians and Peruvians from using fossil fuels to generate electricity – forcing them to keep using wood and animal dung for fuel." Dr. Sallie Baliunas, astrophysicist and TechCentralStation.com science host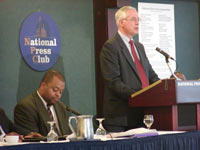 Driessen and Innis at the Earth Day seminar
Environmental Issues Roundtable
May 7, 2004
Strat@comm Communications, Washington, DC
Driessen spoke to local business leaders about CSR and eco-imperialism.
"Today, American and European activists can afford to oppose DDT. They live in wealthy, malaria-free societies. But their inhumane anti-pesticide policies against poor countries mean hundreds of thousands of children and parents die every year who would live, if their countries could also use DDT…. Supporting anti-DDT policies is not moral, ethical or socially responsible. It is a violation of these people's most basic human rights. "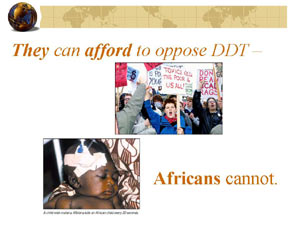 ExxonMobil annual shareholders meeting
May 26, 2004
Dallas, Texas
"I am delighted that Ms. Bandell and her colleagues are making human rights and corporate social responsibility keynote topics at this meeting. But meanwhile, their organizations are working overtime to promote policies that help to impoverish and kill people – violating their human rights, and then claiming their policies are moral and socially responsible." (Paul Driessen, from one of his four statements)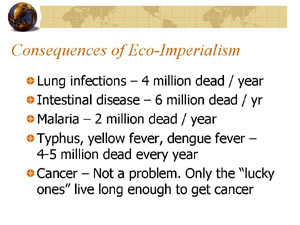 Department of Biotechnology
June 24, 2004
Delft University of Technology, Delft, The Netherlands p7.jpg
Driessen spoke to students and faculty about threats to biotech progress.
"Over 200 million children suffer from Vitamin A Deficiency. Genetically engineered Golden Rice would help prevent blindness and save lives. Just two ounces a day will suffice – not the 4 pounds a day that anti-biotech radicals claim they would need." Paul Driessen (from his PowerPoint presentation)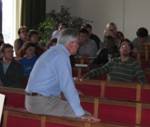 Driessen fields questions from students in Delft
Freedom 21 Annual Conference
July 21, 2004
John Ascuaga's Nugget Hotel, Reno, Nevada
"We need to demonstrate why it is wrong to demand environmental purity – and then impose the costs for that purity on people who have little or no say in the debate or its outcome. We must underscore the injustices that are being imposed on the world's poorest citizens, including countless children, whose most fundamental human rights are being violated every day." Niger Innis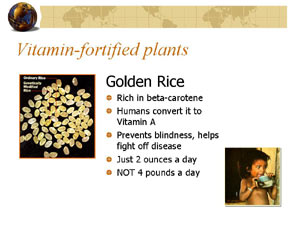 Institute for Humane Studies, Environmental Seminar
July 23-26, 2004
Seattle University, Seattle, Washington
"My friend's little child hasn't been able to walk for months because of malaria," Fifi says. "Her family doesn't have the money to help her, and neither does the Ugandan government. All they can do is take care of her the best they can, and wait for her to die." Paul Driessen (from the second of his three lectures to college and graduate students)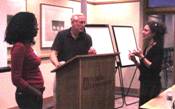 Driessen speaks with students following his lecture
National Black Chamber of Commerce
July 31, 2004
NBCC annual conference, Washington, DC
Driessen signed books and spoke to minority business owners
"Cute, indigenous customs aren't so charming when they make up one's day-to-day existence," says Kenya's Akinyi Arunga. "Then they mean indigenous poverty, indigenous malnutrition, indigenous disease and childhood death. I don't wish this on my worst enemy, and I wish our so-called friends would stop imposing it on us." Paul Driessen (from his PowerPoint presentation)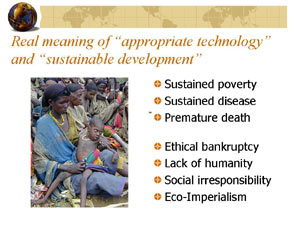 Symposium on Eco-Imperialism
October 2, 2004
Sydney, Nova Scotia
Sponsored by the Atlantic Institute for Market Studies
"Environmental activists and even some businesses hold these terms up as a lighthouse, an ethical beacon, for companies and citizens to follow – supposedly to create a cleaner, better, more just world. I don't think that's accurate. The fact is, these terms have been defined, interpreted and imposed to promote particular political agendas." Paul Driessen (from his talk)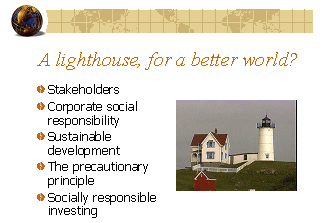 Breakfast meeting and symposium on Eco-Imperialism
October 3, 2004
Halifax Club, Halifax, Nova Scotia
Sponsored by the Atlantic Institute for Market Studies
"It's a primary reason I became active in the emerging environmental movement during and after college.
Today, in part because of the initiatives we helped to launch back in the early 1970s, the river is clean. You can swim in it, and eat the fish, and nearly a dozen pairs of eagles nest along the riverbanks, not far from my family home." Paul Driessen (from his presentation)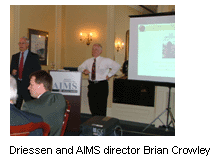 Debate on Eco-Imperialism
"Resolved: American environmentalism harms developing countries"
October 13, 2004
Yale Political Union, Yale University, New Haven, CT
"We must insist that 'environmental ethics,' 'environmental justice' and 'corporate social responsibility' reflect the needs and concerns – not of self-proclaimed stakeholders – but of people who actually have to live with the consequences of these political decisions." Paul Driessen (from his debate points)
(In October 2004, Driessen's PowerPoint presentation, "Health and prosperity for the world's poor," won a prestigious Platinum Award in the international Marcom Creative Awards communications competition. The Eco-Imperialism.com website won a Gold Award.)
Luncheon and dinner speeches, radio and newspaper interviews
December 9, 2004
Winnipeg and Lowe Farm, Manitoba
Sponsored by the Frontier Centre for Public Policy
"A new African proverb captures the situation almost perfectly: 'We must become white, before we can become green.' Before people in developing nations can be expected to respond favorably to developed country concerns about the environment, they must end the poverty, disease and malnutrition that are ravaging their communities." Paul Driessen (from his concluding remarks)
Read the Frontier Centre interview with Driessen.
See Driessen's PowerPoint presentation in Winnipeg via the same Frontier Centre link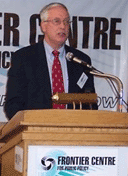 Eco-Imperialism and human rights on radio and television
Greg Garrison Show, with host Chris Horner, Indianapolis, IN: July 29, 2003 – WIBC Radio 1070 AM and www.WIBC.com
Mike Rosen Show, Denver, CO: Wednesday, November 19, 2003 – KOA Radio 850 AM and www.850KOA.com
Straight Talk with Martha Montelongo, Santa Cruz, CA: November 23, 2004 – KION Radio 1460 AM and www.marthamontelongo.com/archives.html. Largely Latino audience.
Dennis Prager Show, Los Angeles, CA: December 11, 2004 – KRLA Smart Talk 870 AM radio, www.KRLA870.com and www.DennisPrager.com
True North with Laurie Morrow, Montpelier, VT: December 29, 2004 – WDEV 550 AM and 96.1 FM, and WSYB 1380 AM (reaching Vermont, New Hampshire and northeastern New York).
Doug Kellett Show, Denver, CO: January 2, 2004 – KNRC Radio 997 AM and www.knrcradio.com
Relevant Radio with Chris Cavins, Clinton, IA: January 5, 2004 – 92.5 FM KXJX-LP, nationally syndicated and cablecast at www.RelevantRadio.com (primarily Catholic audiences).
Rule Free Radio with Bryan Bishop, Providence, RI: January 20, 2004 – WARL 1320 AM and www.realityradio1320.com – Broadcast during the Congress of Racial Equality's symposium on eco-imperialism, the program featured Greenpeace co-founder Dr. Patrick Moore, CORE's Niger Innis, and several other experts.
True North with Laurie Morrow, Montpelier, VT: January 23, 2004 – WDEV, 550 AM and 96.1 FM, and WSYB, 1380 AM.
Michael Corbin Show: February 18, 2004 – nationally syndicated and live on the Internet at www.4AcloserLook.com
Jerry Agar Show, Charlotte, NC: March 31, 2004 – WPTF 680 AM and via the Internet at http://www.carolinajournal.com/nctalkradio/
Ken Hamblin Show (aka The Black Avenger), Denver, CO: April 2, 2004 – KSFO 560 AM radio … www.KSFO560.com … and www.Hamblin.com
Peter Weisbach Show, Seattle, WA: April 13, 2004 – Newsradio KIRO 710 AM and on the Net at www.KIRO710.com
Derry Brownfield Show, syndicated throughout the Midwest and beyond: June 4, 2004 – Common Sense Radio and www.DerryBrownfield.com
The Stan Woodard Show, Madison, WI: August 10, 2004 – WORT 89.9 FM and www.WORTfm.org
Todd Hickman, Beaumont, TX and beyond: August 31, 2004 at 8:30 pm – NewsTalk 560 AM, plus www.BottomLineRadio.net and www.SaveMyRetirement.com
Information Morning with Ian McNeill, Sydney, Nova Scotia: September 28, 2004, Canadian Broadcasting Corporation Radio Sydney, http://novascotia.cbc.ca/capebreton
Maritime Noon with Costas Halavrezos, Halifax, Nova Scotia: October 5, 2004, CBC Radio Halifax, http://www.cbc.ca/maritimenoon/
Wild Rose Forum with Don Hill, Edmonton, Alberta: October 7, 2004, 3:00-4:00, CBC Radio 1, http://calgary.cbc.ca/radio1/wildrose.html
Viewpoints with Connie Asero, Atlantic, NC: October 12, 2004 at 5:30 pm – WJNC 1240 AM, WTKF 107.3 FM, http://www.wtkf107.com/
The Straight Goods with Brian Crowley, Halifax, Nova Scotia: October 27, 2004 at 8:00 pm and rebroadcast on October 29 – Eastlink Cable 10 (reaching 250,000 households in Nova Scotia, Prince Edward Island and parts of southern New Brunswick). Simultaneous streaming video at http://www.eastlink.ca/eltv/webcasting/index.html